941 Armed CC4
Rolls (Plus Size)
(Video #4A)
FREE Shipping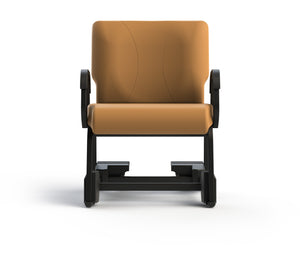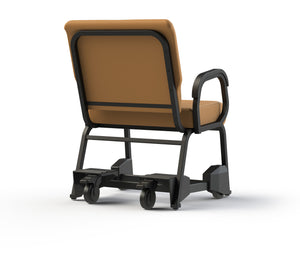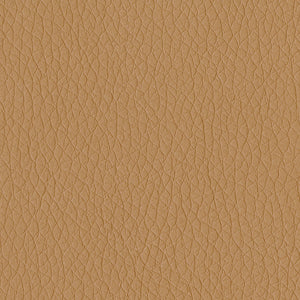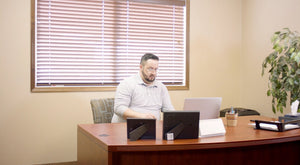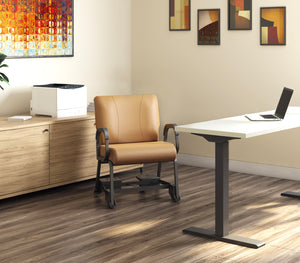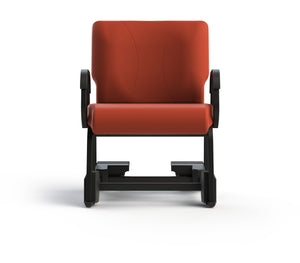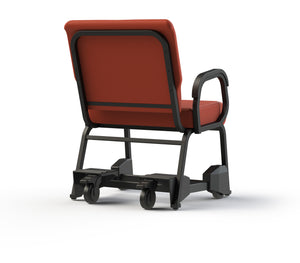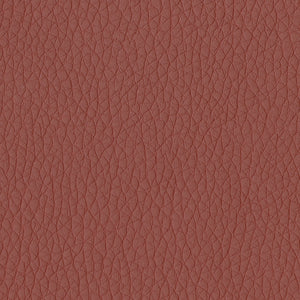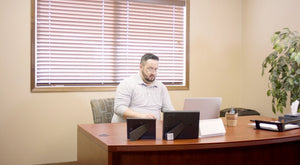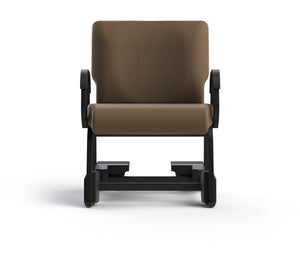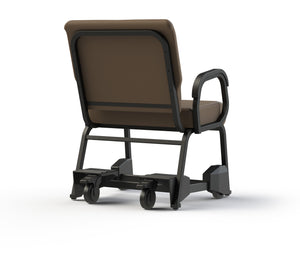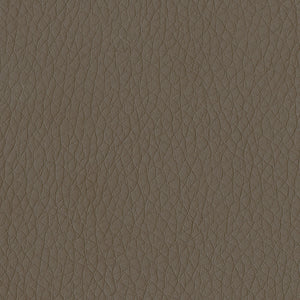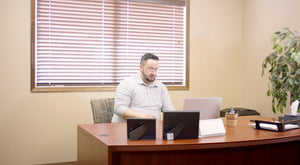 ---
Mealtime Benefits
When using this chair...
the need for the person to

awkwardly twist and step backwards

in order to get seated is eliminated. The person remains standing, supported by their walker or another caregiver until the chair is safely positioned "behind" them.
with the chair in position, the spouse/caregiver is able to safely provide assistance as the person gets seated in the chair.
the

fear of bumping into the table

is eliminated as the person being assisted stands away from the table until they are comfortably seated.
persons being seated

are more at ease

knowing the chair arms provide support as they are gently guided to the table.
Mealtimes are EASIER, SAFER and more ENJOYABLE as loved ones experience an increased sense of dignity and self worth.
Product Description
Mobility Feature: The chair Rolls…and Brakes for safety


A steel-framed, armed side chair/dining chair with lumbar support, curved back padding, and 3" molded, waterfall seat cushion. Both the chair frame and the seat cushion are a full 24" / 30" wide. The chair is sized to accommodate a person of 450 lbs. (24") or 550 lbs. (30"). The attached Chair Caddie provides mobility assistance for seated guests. Rear casters include foot-activated brakes that cannot be activated by the seated person.
Application / Venue:
 Home office, dining, and side chair

Features:

Steel Frame - Armed Chair
Caddie-4
Foot-activated, rear-locking casters
4" HD casters/anti-tip glides
Commercial-grade fabrics/vinyls
3"

dual-density seat cushion

- 24" / 30" wide
Rated for 450-550 lbs.
Made in the USA  

Warranty: 10 year BUMPER to BUMPER (Lifetime warranty on frame)


Model: 941 Armed CC4 24"Dimensions:
 28" W x 24" D x 35.25" H (Overall width)

Seat Width:
 24"
Seat Depth:
17.5"
Seat Height:
 18.75"

Arm Height:
 26.25"
Weight Rating: 450 lbs.

Weight:
 67 lbs.

Model: 941 Armed CC4 30"
Dimensions: 34" W x 24" D x 35.25" H (Overall width)
Seat Width: 30"
Seat Depth: 17.5"
Seat Height: 18.75"
Arm Height: 26.25"
Weight Rating: 550 lbs.
Weight: 72 lbs.
Shipping Info
ComforTek is committed to shipping chairs in a timely manner.
Quick Ship Program (Ships in 2-3 business days)
Chairs upholstered in: Java
Custom Upholstery Program (Ships in 5-8 business days)
Chairs upholstered in: Cordovan and Luggage
Special Shipping Conditions
ComforTek recognizes that families may be coordinating a loved one's discharge from a medical community with the availability of specialized seating products. Please contact ComforTek Seating for more information.
Do chairs ship fully assembled?
Each chair is fully assembled at the factory and then disassembled to fit into a regular shipping box.
A fully assembled chair is too large for standard delivery service and requires the chair to be placed on a pallet and shipped via FedEx Ground service. For residential deliveries, a pallet is too large to receive or handle.
To reassemble the chair, you will need 4 screws (provided) to attach the back to the chair. If a Chair Caddy was also part of your order, an additional 4 bolts (provided) are required to attach the Chair Caddy to the chair.
Can my chair ship fully assembled?
Yes, certainly. Please reach out to us with your complete shipping address, and we will be happy to provide you with a shipping cost estimate.
Additional Videos